By MOTOsafety / Posted June 1, 2016
Is Your Teen Driver Ready for Summer Vacation?
Summer vacation is just around the corner, and teens are looking forward to long days without school. This is the season for hanging out with friends, training for fall sports, or working hard at a summer job. Whatever your teen's summer plans are, they will have more hours on the road without classes on the schedule. Is your teen ready for this responsibility?
Reviewing Boundaries for Summer Freedom
When your teen was at school most of the day, driving boundaries were easy to establish. There was only one place they were expected to be the majority of the daytime hours. Summer is more complicated; your teen might have to drive to different places on different days of the week, and they might have to travel farther from home. Review the geofence settings in your MOTOsafety software to accommodate their new schedule. Agree on safe geographic boundaries for summer activities now to prevent arguments later.
Establish Summer Curfews
Will your teen be staying out later at night once summer break starts? This is a great time to talk about summer curfews. Remember that most states have established curfews as part of the Graduated Drivers License (GDL) program. This is a good starting point, so your teen is aware of the law; but you should also discuss your family rules that might add stricter guidelines. Don't forget that you can set up curfew hours in your MOTOsafety software that will send you alerts if the vehicle is driven outside the times that you have set. This is a great way to ensure that your teen driver is following the rules that you have set to keep them safe and out of trouble. Use this feature for additional peace of mind.
Check GDL Passenger Laws
In the summer, your teen has more opportunities to drive with passengers in the car. Driving to the pool with friends can be fun, but it is also more dangerous. Most Graduated Driver's License programs limit the number of passengers teens can have in their car, because passengers greatly increase the accident rate. Make sure you and your teen know the state law, and discuss the importance of staying focused while driving with friends.

Review the Safety Pledge
Summer is the deadliest period for teen driving. While you are discussing new boundaries for school break, take out the MOTOsafety driving pledge that your teen signed before driving and go over the commitments that they have made. Talk to your teen about distracted driving and alcohol use. Make sure they know what to do if they make a mistake and are too impaired to drive.
Summer is a high-risk time for teen drivers, but if you are proactive about communicating with your teen, you can reduce their chance of being in a vehicle accident.
---
Installs in seconds
Rates driver performance
Monitors safe driving behaviors
Shows location in real time
Generates alerts for speeding and more
Signals unauthorized usage
Details & Pricing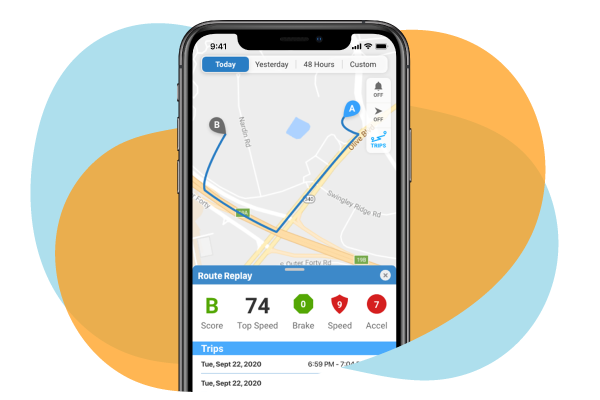 Next Post
June 14, 2016
Once your teen starts driving on their own, it can be hard to strike a balance between hovering and protecting. Although MOTOsafety allows you to…
Previous Post
May 15, 2016
Memorial Day marks the beginning of many summer trends. However, in the midst of pool openings, barbeques, and vacation planning, a much less…