By MOTOsafety / Posted May 15, 2016
Prepare Your Teen for the 100 Deadliest Days
Memorial Day marks the beginning of many summer trends. However, in the midst of pool openings, barbeques, and vacation planning, a much less celebrated trend begins. The days between Memorial Day and Labor Day mark what is known as the "100 Deadliest Days" of driving for teens, as vehicle accidents increase significantly during this time. According to the National Safety Council, almost 1,000 people were killed during this period in 2012, and over half of them were teens.
Before the 100 Deadliest Days begin, talk with your teen about the dangers of this time and review the reasons that accidents increase.
No school means more daily driving.
When school closes for summer break, teens have more time for other activities. This means that your teen is at risk more frequently on the road. It also means that your teen is going to encounter more inexperienced drivers while they are out. Make sure that your teen understands to be mindful of other vehicles and prepared for unexpected behavior, such as sudden stops or turns against a traffic light.

Passengers are along for the ride.
Because summer driving is more recreational, teens often have passengers in the car. However, the National Safety Council warns that this increases accidents by 44%. Most states have laws that limit passengers for teen drivers, but these are minimum regulations. As a parent, you should decide in advance what your rules are regarding passengers in the car and communicate them clearly to your teen.
Teens are exploring instead of commuting.
During the school year, your teen probably drives to school and home, and possibly to a job nearby. These become regular routes for them in which they have a certain level of comfort and familiarity with the roads. Summer tends to be a time of driving for fun, which leads to exploring unfamiliar roads. This might be a good time to practice driving a wider area, pointing out hazardous intersections and other points of concern. It is also a great time to discuss geographic boundaries for recreational time.
Later curfews create tired drivers
Finally, teens stay out later when there is no school the next morning. Even if they don't consume alcohol, your teen's reaction time can be impaired due to drowsiness. Stress the importance of getting enough sleep before getting behind the wheel, and make sure that your teen knows to call you if they are out late and are too tired to drive home.
The 100 Deadliest Days can be a scary time for parents of teen drivers. However, you can help your teen prepare for a safe summer by continuing to coach them with MOTOsafety.
---
Installs in seconds
Rates driver performance
Monitors safe driving behaviors
Shows location in real time
Generates alerts for speeding and more
Signals unauthorized usage
Details & Pricing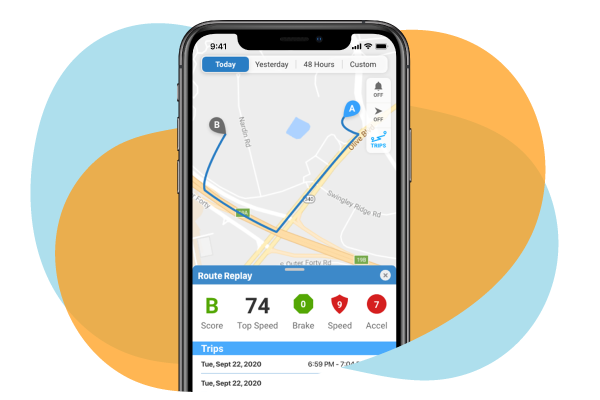 Next Post
June 1, 2016
Summer vacation is just around the corner, and teens are looking forward to long days without school. This is the season for hanging out with…
Previous Post
May 1, 2016
The statistics are against teen drivers when it comes to seat belt safety. According to the CDC, teenagers are the most likely age group to get in an…