Peace of Mind When Your Loved Ones Are On The Road
Easy to install, easy to use. Give your loved ones the freedom they want to be on the road. Give yourself peace of mind, knowing you'll know first if there's a problem.
MOTOsafety – Easy and Powerful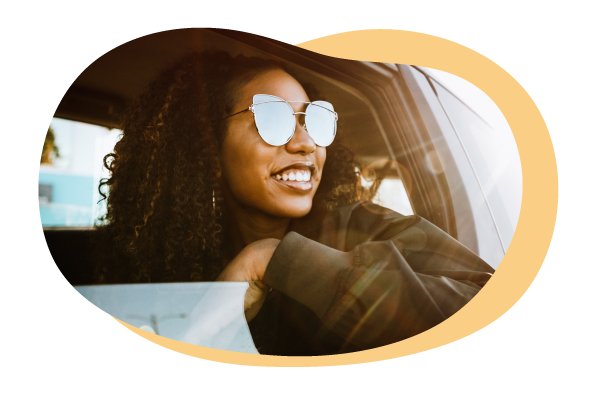 Installs in seconds
Rates driver performance
Monitors safe driving behaviors
Shows location in real time
Generates alerts for speeding and more
Signals unauthorized usage
Order Now
or call: 1-877-732-4970
Simple Device - Installs in Seconds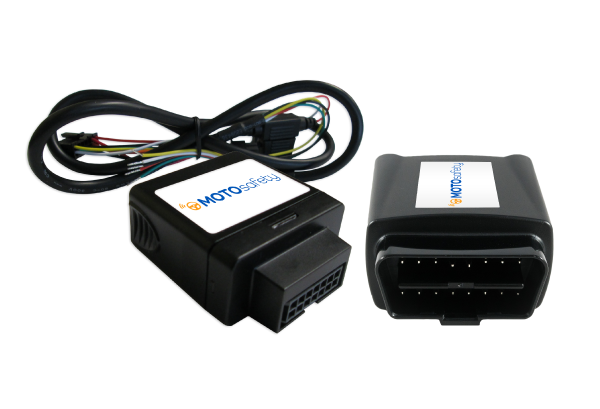 Plugs into the OBDII port under the dash (not compatible with electric vehicles*)
Is not much bigger than a car key
Requires no mobile phone or data plan
Transmits location every minute
Daily Driver's Report Card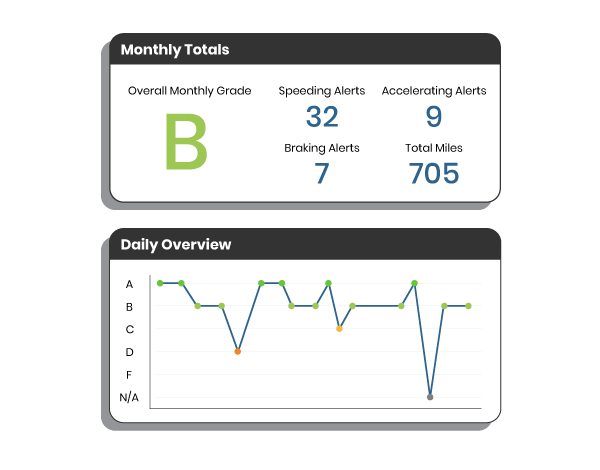 System rates and scores your teen's driving activity
A daily report card is sent out via email each day
The report summarizes unsafe activity including speeding, harsh braking and rapid starts
Report card lets you track progress over time
Track and Monitor Safe Driving Behaviors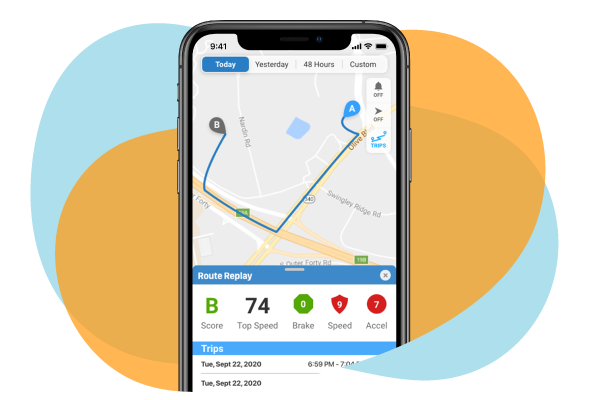 System tracks speed and alerts you when your teen is speeding
Built-in motion sensor detects rapid acceleration or rapid starts
Allows you to coach your teen and reduce unsafe behavior
Customize alerts to fit your needs
Real-time GPS Teen Tracking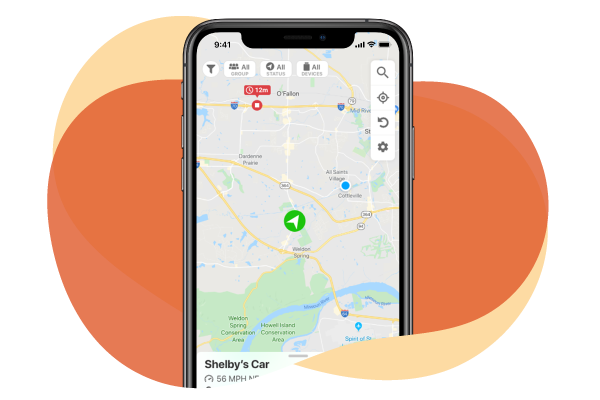 Tracks your teen driver's location in real time
Lets you set up authorized hours of use and alerts you when car is used outside approved hours
Allows you to play back a history of past activity and locations
Shows where your teen stops and for how long
Displays your teen's location on a familiar Google Maps interface on both the web and mobile apps
Interactive Map Boundaries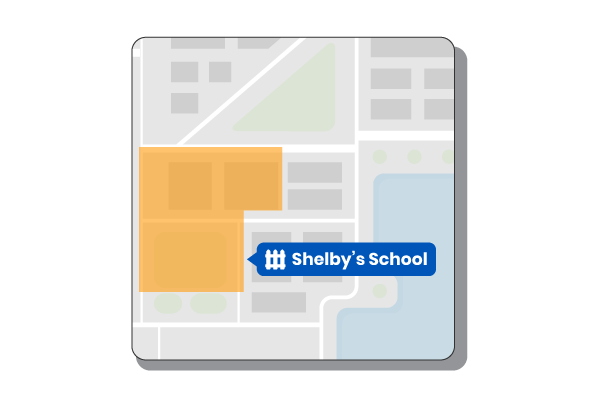 Geofences (virtual boundaries on the map) let you highlight important locations on the map (school, work or friends)
Boundaries can be any shape or size
Alerts tell you when your teen enters or exits these locations
Alerts for Key Driving Activities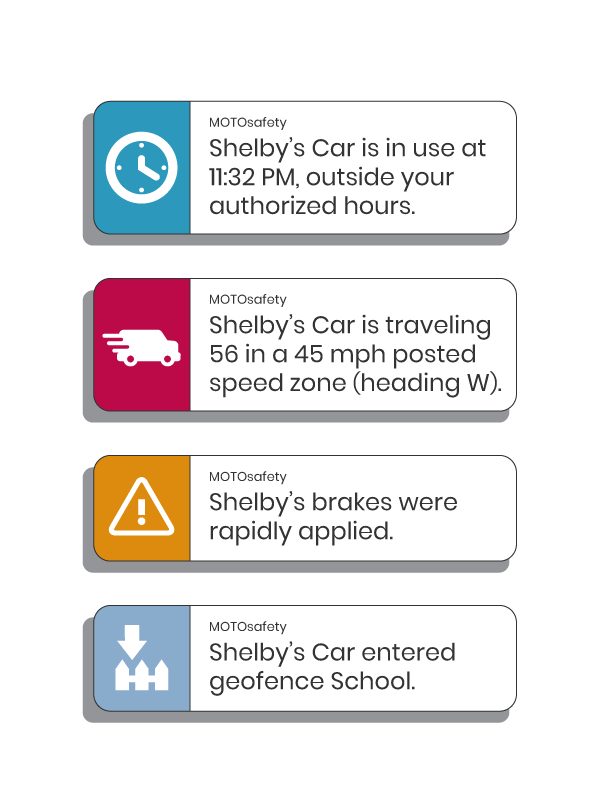 Receive alerts for unsafe driving behaviors, such as:

Speeding
Harsh Braking
Rapid Acceleration
Device Tampering
Enter/Exiting Geofences
No GPS Signal
High Speed
First Speeding Offense
Excessive Idling (Reduces Fuel Efficiency)
Curfew/Unauthorized Hour Usage

Customize alerts notifications to be sent immediately, hourly or daily through the mobile app, email or text
Set up the times of the day when your teen can drive, and receive alerts when the car is used outside those hours
Create custom alert schedules and select types to be sent on individual drivers
Receive alert summaries either immediately, hourly or daily
Receive mobile app notifications
Maintenance Reminders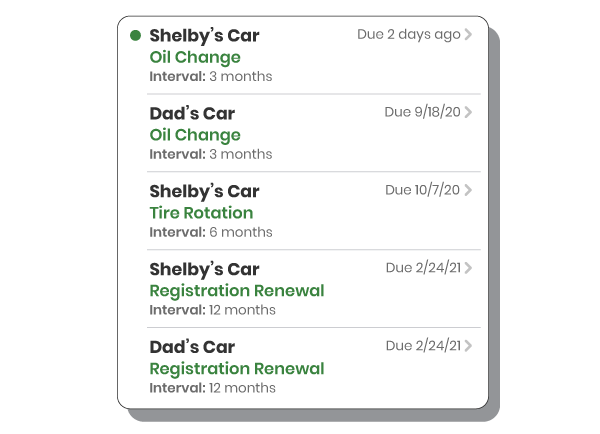 Make vehicle maintenance easier for your teen or parent with scheduled maintenance reminders. Based on your vehicle's mileage, MOTOsafety will recommend services that include:

Oil Changes
Tire Rotation
Air Filter Changes
License Renewals
Preventative Maintenance Routines
Add More; Customize Your Own Reminders

Get maintenance reminders by text, email or push notification on the MOTOsafety mobile app
Review the maintenance history and activity for your teen's vehicle and keep a record of all completed service
Native Mobile Apps for iOS and Android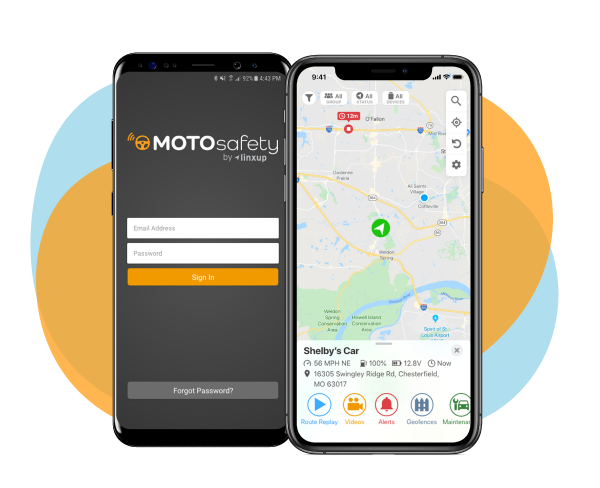 Monitor your teen even when you're not in front of your computer
Get instant locations and review driving history
Drill down to the street level for greater detail
Receive alert summaries either immediately, hourly or daily
Receive mobile app notifications
Please Note: You will need an active MOTOsafety device and account to use the application.
Monitor and Coach Your Teen Driver in Real Time
Always know where your teen is, when they arrive and easily review their driving history.
MOTOSafety is easy to install and easy to use.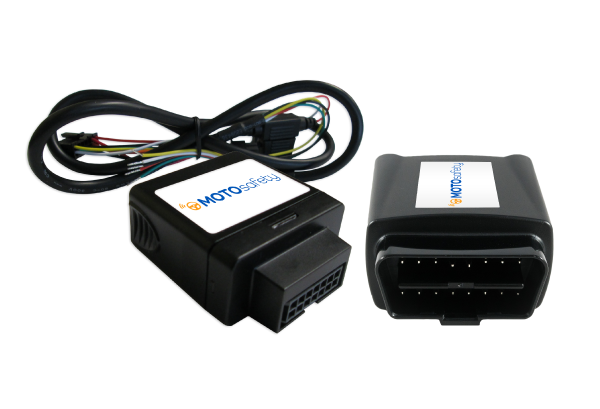 ALL VEHICLE TRACKING DEVICES $99
$69.99
No contracts or activation fees, just $25/month.
Wired device allows for totally discrete installation
Order Now
or call: 1-877-732-4970