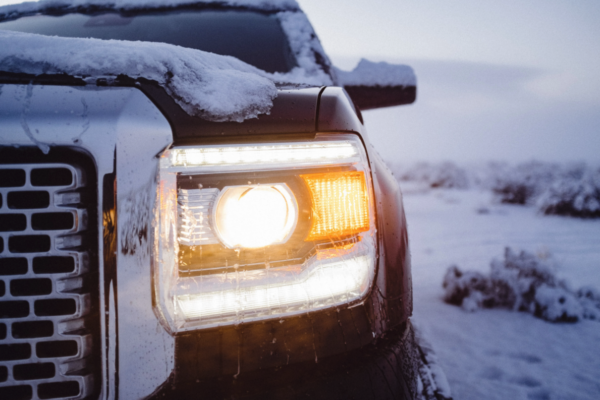 By Janine Brownridge / Posted February 3, 2021
Winter Driving Tips for Teens
A parent's first instinct is to keep teens at home when winter weather hits, and this might be the right decision. New drivers are certainly not ready for the challenge of a heavy snowfall. However, this can also be the perfect time to coach your teen on driving skills for bad road conditions, teach them winter car maintenance, and prepare them for emergencies. If you use this time as a teaching opportunity in safe spaces, you can make sure your teen is well-trained and prepared for the day that they do have to drive in the snow.
Teach them to be well-prepared
Involve your teen in winter car maintenance so that they will learn this valuable life skill. Show them how to check wiper blades, tire pressure, and tread-depth. Goodyear offers step by step directions on how to perform a simple tread test with a quarter. Let them top off the wiper fluid, and remind them to keep the gas tank at least half full. Develop and discuss an emergency plan, and make sure that a reliable towing company is programmed into their cell phone. Make sure your teen knows that MOTOsafety will allow you to locate them quickly if they get stranded.
Create a winter car emergency kit together:
extra blankets, gloves, and hats
snow boots
flashlight
flares
jumper cables
bottled water and protein bars or other non-perishable food
sand or regular cat litter
shovel
Your emergency kit needs can vary depending on where you live and drive. Lifehacker offers guidance on putting together an emergency car kit while keeping these things in mind.
Equip the car with a snow brush and ice scraper, and show your teen how to properly clean the car for driving. Emphasize that all lights should be clean, and that the roof and windows should be completely clear of snow and debris. Finally, demonstrate how to ensure that the exhaust pipe is not obstructed to prevent carbon monoxide poisoning.
Practice Driving in a Safe Area
Your teen will be better prepared for real winter driving if you use snow as an opportunity to teach winter driving skills. Find a safe, wide-open space such as an empty parking lot to give your teen hands on practice maneuvering a car on snow-covered pavement. It's important that they learn not to rely on advanced car features. While these features are great to have, there is no substitute for knowing how to handle a car in the snow. Show them how to get a "feel" for their car's gripping ability and adjust their driving accordingly. Make sure they understand that acceleration, steering, and braking all use gripping ability and might need to be separated to maintain control. The skills that MOTOsafety monitors and teaches, such as speed control and smooth braking/acceleration will come in handy during this time.
Review driving tips for the road
When your teen does drive on the winter roads, they will need to take extra precautions. Review the following winter driving tips:
Increase scanning area for stranded cars, pedestrians, snow plows, and utility trucks.
Adjust speed to conditions: this usually means lower than the posted speed limit.
Look and steer where you want to go. Do not fixate on obstacles or trees when sliding.
Increase following distance to allow extra braking time.
Give snow plows at least 200 feet of following distance.
Always drive with headlights on.
Apply steady pressure on brakes instead of pumping.
Watch out for ice on bridges, overpasses, and shady areas.
Drive on the ruts in the snow.
Beware of excess salt areas where traction can decrease.
Don't use cruise control.
Don't accelerate in the middle of a hill; plan ahead and build inertia.
When skidding or hydroplaning, remove foot from the gas, shift to neutral, and allow the car to regain traction before steering.
Remember that it's always okay to say no to your teen's request to drive, especially in freezing rain or black ice conditions. When they do have to drive, you can use MOTOsafety to see that they get to their destination safely.
---
Installs in seconds
Rates driver performance
Monitors safe driving behaviors
Shows location in real time
Generates alerts for speeding and more
Signals unauthorized usage
Details & Pricing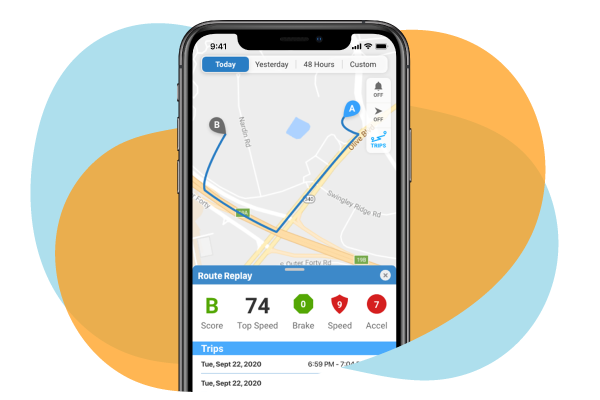 Next Post
April 6, 2021
If you have discussed safe driving habits with your teen, you probably took time to warn them about alcohol. However, there is a risk just as deadly…
Previous Post
January 25, 2021
Distracted driving has been on the rise in recent years and claims thousands of lives. Here are three major types of distractions that can take place…