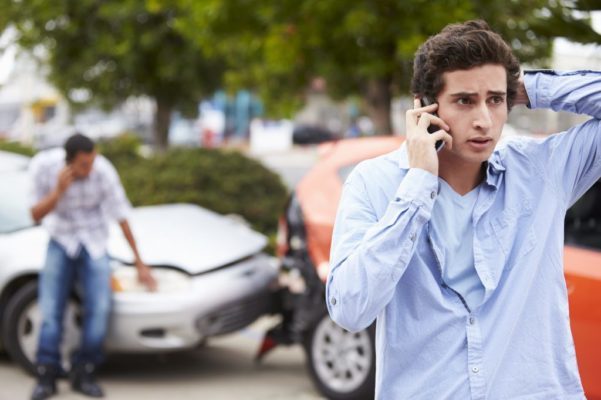 By Dave Holland / Posted October 24, 2016
What to Do in an Accident
When you send your teen out on their own, you should send them well-trained to avoid accidents. However, you should also send them well-prepared to handle an accident if it occurs. While you hope that your teen never has to use this information, you can have peace of mind knowing that they are equipped to respond properly. While you are talking to your teen about seatbelt safety or sharing the road, you can also teach them skills for accident response.
The basics: A post-accident checklist
If your teen is in an accident, they will be nervous and shaken and might not be able to think through the next best steps. This is why they should be well versed in a basic checklist of actions. Review this list periodically with your teen to make sure it is tucked away in their memory. Tell them to think of it as a fire drill; by rehearsing the knowledge of what to do, they will be able to react quickly.
Keep calm. Do not engage in arguments or let panic prevent a safe reaction.
Get to a safe area. If the car is movable, pull it to the shoulder; if not, turn on the hazard lights and get out of danger. Your teen might have road flares, but advise them to use caution before hanging out on the road to place these. On a busy interstate the safest thing to do is to get far from the road as quickly as possible.
Check on passengers and those in the other vehicle. Dial 911 immediately if there are serious injures.
Call the police, even for minor accidents. The dispatcher, not the involved drivers, should be the person who decides if a police response is necessary. If an officer will not be responding to the accident, the dispatcher will also give important instructions about how to file a police report.
Depending on the extent of damages, call roadside assistance or a pre-determined emergency contact for a ride. If MOTOsafety is installed in the car, a parent can quickly find the location of the scene.
Exchange important information. This includes contact details, insurance information, driver's license numbers, make and model of all vehicles involved, and names and badge numbers of responding officers. However, you should never give your social security number.
Take several pictures. Pictures should include shots of the overall area of the scene as well as close-up damage to both vehicles.
Preparing well: High-tech and low-tech
There are several things you can do for your teen in advance to make the occurrence of an accident easier to handle. First, check the glove compartment for the legal necessities: vehicle registration and insurance card. This will keep your teen compliant with the law, but there are a few helpful things that you can add. A copy of their health insurance card can expedite necessary medical treatment. A pen and small notebook will allow them to record important information. Although it might seem archaic, a disposable camera provides a way to take pictures if their smartphone is missing or damaged. It's also a good idea to have "smartphone backup" in the form of written emergency numbers: mom, dad, police, insurance agent, and roadside assistance.
Preparing for a low-tech need doesn't mean you have to ignore high-tech options. If your teen does have a working smartphone, they can take advantage of some advanced features. For example, many insurance companies offer apps for easy accident reporting, including the ability to upload pictures. All of the above-mentioned numbers can be programmed into their phone for quick response. Make sure your teen has a phone charger in the car, just in case they are stranded with a low battery.
Emergency tools
You can also help your teen prepare by stocking the car with emergency tools. A first aid kit can be helpful for treating minor injuries, while a roadside emergency kit supplies practical needs like flares, a flashlight, and jumper cables. Another important piece of equipment is an escape tool. This should be kept in the front of the car within easy reach of the driver.
Taking the time to prepare your teen mentally and physically for an accident can make an important difference in their calmness and confidence if one occurs. Review the checklist often and stock their vehicle with these basic items so that your help and guidance is present with them when they might need it most.
---
Installs in seconds
Rates driver performance
Monitors safe driving behaviors
Shows location in real time
Generates alerts for speeding and more
Signals unauthorized usage
Details & Pricing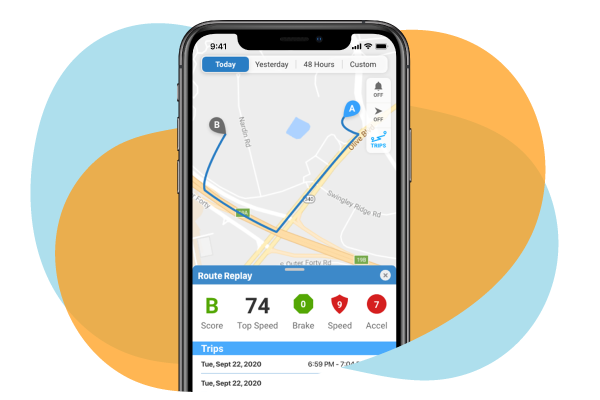 Next Post
November 7, 2016
If your teen or college student is driving a car equipped with MOTOsafety, they have an advantage when it comes to keeping their car in great…
Previous Post
October 3, 2016
As the parent of a teen driver, you do all that you can to teach your child to drive safely. So why are you so worried when you watch that car leave…