By Jana Rhodes / Posted November 15, 2015
Highway Driving: 4 Tips to Keep Yourself Safe
It's what every teen anticipates when they turns 16: a shiny new driver's license, and a shiny new car. The prospect of getting behind the wheel and cruising around your neighborhood can be exhilarating and daunting. The increased speed and traffic of a major highway can be a whole new challenge altogether. That being said, a highway is often the easiest and most efficient route to get from one point to the next. With the right knowhow, and some consistent practice, it can be safe and fun to drive on an expressway. These easy-to-follow tips can minimize the risk of highway driving. Give it a quick read, and jot them down as a reminder. Then get in, buckle up, adjust your mirrors, and enjoy the ride.
Keep Your Distance
As you learn the ins and outs of driving, you'll discover that there's one thing drivers can agree on: traffic can be a real bummer. Major highways are notorious for stop-and-go traffic. Drivers must adapt to keep an eye out for sudden stops and starts to avoid colliding with the car in front of them. According to the National Highway Traffic Safety Administration, more than one-fourth of all vehicle accidents are rear-end collisions. In many cases, the fault falls on the driver of the car in back. To avoid unnecessary damages, expenses and injury, keep two to three car lengths between you and the car in front of you. This gives you plenty of time to react if the driver in front of you suddenly comes to a halt, even in inclement weather.
Check Those Mirrors
Even before a driver ventures onto the road, drivers should adjust the car's rearview and side mirrors for maximum visibility of cars that may approach from either side. A car's mirrors are indispensible when it comes to changing lanes when there can be up to four lanes of cars vying to get to the head of the pack. Each side mirror should be positioned so that you can easily see along the entire side of your vehicle without having to crane your neck. The rearview mirror should offer a clear view of what's behind the vehicle. When used together, the side and rearview mirrors should provide a view of almost everything that surrounds your car. Sometimes, an approaching vehicle may wind up in your blind spot, which can cause a collision when you change lanes. Before hopping over to the next lane, check your mirrors, turn on your signal, and look over your left shoulder and behind you to see if any cars are approaching.
Maintain a Steady Speed
As a rule, it's best to keep up with the flow of traffic, only moving to the leftmost lane to pass another vehicle. Of course, this isn't always how it happens in practice. On the highway, you're likely to encounter stop-and-go traffic, and to see cars and semis darting in and out of lanes. If traffic is at a steady flow and you're within the posted speed limit, set your cruise control, or try to keep your RPMs at that same level to avoid unwittingly developing a lead foot.
Put Down the Cellphone
Distracted driving accounts for more than 1,100 collisions and nine fatalities, every day. Cellphone use impairs a driver's ability to focus, and inhibits a person's normal reaction time. That's why most major cities and towns issue costly citations for motorists caught using their mobile phones. Before you even get into the driver's seat, silence your cellphone to prevent a call, a text or an email from taking your eyes and ears off the road.
These are just a few of the tips you can use to make highway driving safer and less stressful for yourself, your passengers and drivers that share the road with you. As an added precaution, keep an emergency kit in the car, and acquaint yourself with how to change tires, check oil and perform other types of routine vehicle maintenance.
Author Bio:
Donald G. Asher oversees works as general manager at the Kenneth J. Allen Law Group, joining the firm in 2009. Ken Allen and his associates specializes in personal injury law, including automotive accidents. For more information on Ken Allen please visit their website.
---
Installs in seconds
Rates driver performance
Monitors safe driving behaviors
Shows location in real time
Generates alerts for speeding and more
Signals unauthorized usage
Details & Pricing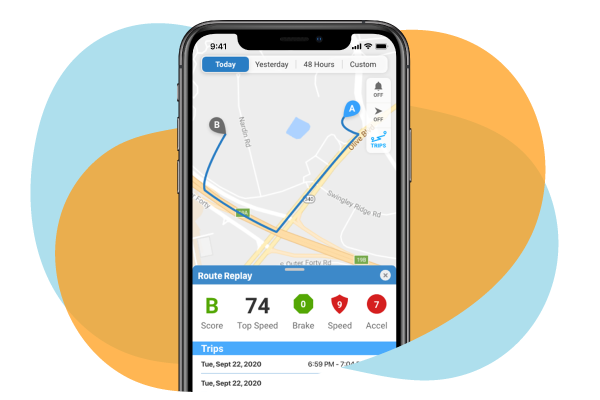 Next Post
November 23, 2015
Most of us know about the short term effects on mental ability and judgement that impaired driving causes, but these are not the only dangers. The…
Previous Post
November 1, 2015
If you are considering a MOTOsafety device, you might have one important question lingering and holding you back: How do you discuss this with your…